Johnston County Ag Report
Johnston County Ag Report
September 26, 2016
From: NC Cooperative Extension – Johnston County Center
Phone: 919-989-5380
Cattle Handling Equipment Available for Rent to Johnston County Cattlemen's Members
Field Day Demonstration Planned October 4, 2016
The Johnston County Cattlemen's Association, in cooperation with Johnston County Cooperative Extension, are pleased to announce the availability of portable cattle handling equipment to its members. The equipment includes a Priefert S04 squeeze chute and a Priefert CS-1 Cattle Handling System. The CS-1 includes panels, bow gates, a sweep tub and an alley. This project is funded in part by a grant from NC AgVentures, a project of the Tobacco Trust Fund Commission.
To demonstrate this equipment and promote its use, a field day demonstration is planned for October 4, 2016 at Wood Angus, 721 Honeycutt Rd, Willow Springs. The field day will begin at 6 pm at the Wood's sale barn with a complimentary dinner of hamburgers and hot dogs, followed by a demonstration of the equipment with live cattle directly behind the sale barn.
Members of the association can rent either the squeeze chute or the CS-1 for $50 per use, up to one week. Both pieces can be rented for $100 per use, also a one-week maximum. The squeeze chute will be available for rent immediately following the field day on October 4. The CS-1 will be available once a trailer is built to haul it. Anyone may join the Johnston County Cattlemen's Association; dues are $20 per year for an individual or farm operation. Members interested in renting this equipment will need to reserve it by calling the Johnston County Cooperative Extension Office at (919)989-5380 or by emailing the Livestock Agent, Dan Wells, at dgwells@ncsu.edu
The demonstration of the equipment on October 4 is open to all interested parties. In order to prepare for the meal, anyone planning to attend is asked to register by calling the Extension Office at (919)989-5380 prior to October 1.
2016 Corn and Soybean Contest
Anyone interested in entering the 2016 Corn and Soybean Yield contest should contact Tim Britton at the Cooperative Extension Office at 989-5380.
Diamondback Moth Cabbage/Collards Spray Program
Agronomic Practices-
If you had problems in previous years crop it is advised to move locations because diamondback moths will over winter in that same area and prefer not to travel long distances. If possible also keep field borders clean or mowed to lower the amount of preferred habitat for moths.
For best results and coverage on the first 3 sprays or when plants are still small, 60 to 70psi with around 15 gallons of water is best. After plants get larger or after 3rd spray, volume can be increases to 25+ gallons and a 3 nozzle system with one centered and 2 drop nozzles angled at side of plant would allow for best coverage on bottom side of leaf.
This spray program is for aggressive diamondback moth control and prevention, after the 3rd spray (Lannate LV and Dipel) preventative sprays could be moved to 7 to 10 days if moth pressure was not present, but scouting and early detection are key.
At Transplant- 4oz Coragen in transplant water
5 to 7 days after transplant- Lannate LV- 1pt + Dipel
5 to 7 days- Lannate LV 1pt + Avaunt 3.5 to 5 oz
5 to 7 days- Lannate LV 1pt + Dipel
5 to 7 days- Proclaim 4.8oz
5 to 7 days- Coragen- 5oz
5 to 7 days- Avaunt- 5oz
If additional sprays are needed you can alternate between Proclaim, Avaunt, Coragen or Dipel.
When using Coragen it is advised to use a MSO surfactant to help the material stick and absorb into the cabbage.
Storage Grain Treatments for Corn
| | |
| --- | --- |
| Empty Bin Treatments | Comments |
| Beta-Cyfluthrin (Tempo SC Ultra) | Apply to empty bin surfaces only, not to grain. May not provide adequate control of weevils. |
| cyfluthrin and chlorpyrifos-methyl (Storcide) | Applications are to be made from outside of the bin using high pressure hand-held or automated spray equipment. Cyfluthrin, a component in Storcide does not have CODEX MRLs. Please check with your grain buyers before using. |
| chlorpyrifos-methyl and deltamethrin (Storcide II) | Bin applications should only be applied from outside the bin. Only downward spray is permitted. All openings, except for the point of application must be closed during applications. This product may only be applied to empty grain bins using automated spray equipment. Do not allow others to enter until sprays have dried. |
| deltamethrin (SUSPEND SC) | Apply finished spray to equipment, wall and floor surfaces of grain bins and warehouses prior to storing or handling grain. Do not allow run-off to occur. Application should be made only after equipment bins and buildings have been thoroughly cleaned. |
| Malathion | May not provide control of Indianmeal moth and lesser grain borer. NOTE: Many products now carry the statement "Do not apply directly to grain." |
| (S)-Methoprene (DIACON II and DIACON-D) | Protects stored grains from damaging insects by interfering with the normal process of insect development. Unlike traditional pesticides, Methoprene is not an adulticide, but its residual activity prevents the development of larvae into adults. |
| Silicon dioxide, diatomaceous earth (Dryacide, Insecto, Protect-It and possibly others.) | Select a product specifically labeled for treating grain storage facilities and follow label directions for proper application |
| Empty Bin Fumigants | Comments |
| Chloropicrin (Chlor-O-Pic) | Use only in empty bins for treating aeration ducts under false floors. Do not use if temperature is less than 60 degrees. Proper sealing of lower openings for 24 hours is essential. Placards must be posted during treatment and special safety equipment is required. |
| Aluminum phosphide (Fumiphos, Fumitoxin, Phosfume, Phostoxin, Weevil-cide and others) | Fumigation should only be done by specially trained applicators. |
| | | |
| --- | --- | --- |
| Protectants | Grains that can be treated. | Comments |
| | | |
| Malathion | Barley, corn, oats, rice, rye, sorghum, and wheat | Dry grain below 13% and cool before application. NOTE: The "stored grain" labels for Liquid formulations of malathion has been withdrawn. Current stocks, with the correct label may be used until the stock is exhausted. Apparently some dust formulations still available. Products not labeled for application to stored grain should not be used to treat grain being placed into storage. May not control Indianmeal moth and lesser grain borer. |
| Pirimiphos-methyl (Actellic 5E) | Corn (including popcorn) and grain sorghum | Do not apply before high temperature drying. No food or feeding restrictions. Lesser grain borer is not listed as a target pest on the label. |
| Silicon dioxide, diatomaceous earth (Dryacide, Insecto, Perma-Guard, Protect-It and possibly others.) | All | Select a product specifically labeled for treating stored grain and follow label directions for proper application. Applications can lower test weight and reduce the flowability of grain if applied to entire grain mass, so it is often applied to just the bottom and top layers of the grain. |
Top-dress treatments can help protect the grain from infestations. They should be applied as soon as the bin is filled and the surface is leveled. They may need to be reapplied anytime the surface is disturbed.
Top-dress Treatments
Grains that can be treated.
Comments

Dipel Dust

Several different products are labeled including Dipel ES, ES CPI, DF, or Pro DF; Xentari and Biobit HP. However, many products with similar or equivalent active ingredients do not have stored grain treatment listed on the label, so be certain the product purchased is labeled for the intended use.

All grains including soybeans.
Use only products labeled for stored grain. Mix into the top 4 inches of grain surface. Will control only larva of moths such as the Indianmeal moth and Angoumois grain moth. Slow to kill existing infestations. Some Indianmeal moth populations may now be resistant to Dipel.
Malathion
Barley, corn, oats, rice, rye, sorghum, and wheat.
NOTE: The "stored grain" labels for Liquid formulations of malathion are being withdrawn. Current stocks, with the correct label may be used until the stock is exhausted. Apparently some dust formulations still available. Products not labeled for application to stored grain should not be used as top-dress treatments. May not control Indianmeal moth and lesser grain borers in some areas.
Pirimiphos-methyl (Actellic 5E)
Corn (including popcorn) and grain sorghum.
Do not use as a top-dress treatment on grain where Atellic was used as a protectant.
(S)-Methoprene (DIACON II and DIACON-D)
barley, corn, grain sorghum, oats, peanuts, rice and wheat
Diacon can be applied as a top-dressing to stored products that have already been placed into bins or storage areas. Diacon applied to the surface of the grain, should disrupt the development of Indianmeal moth larvae and other immature insects feeding on the surface of the grain mass.

Silicon dioxide, diatomaceous earth (Protect-It and possibly others.)

All

Some products carry instructions on use as top dressing treatments either alone or in combination with treatment of rest of the grain mass.
Notice — Check with suppliers and current insecticide labels before making any insecticide applications. Slow-Release Pest Strips — Polyvinyl strips containing Dichlorvos can be hung in the over-space above grain to help control Indianmeal moth. Fumigants are highly hazardous and applications require special safety equipment and training and should only be used by trained individuals.
Fumigants
Comments
Aluminum phosphide (Fumiphos, Fumitoxin, Phosfume, Phostoxin, Weevil-cide and others)
Once grain is infested treatment will require fumigation which should only be done by specially trained applicators.
sulfuryl fluoride (ProFume)
Information on this page has not be reviewed recently and thus may not be up-to-date. Check with suppliers and current insecticide labels before making any insecticide applications.
Grain Sorghum and White Sugarcane Aphid
Since the white sugarcane has been identified in Johnston County, the likely hood that is in all sorghum fields at some level is probable.
At the stage we are at, I am attaching a threshold chart
| | |
| --- | --- |
| Growth Stage | Threshold |
| Pre-boot | 20% infested plants with localized area of honeydew and established aphid colonies |
| Boot | 20% infested plants with localized area of honeydew and established aphid colonies |
| Flowering-milk | 30% infested plants with localized area of honeydew and established aphid colonies |
| Soft dough | 30% infested plants with localized area of honeydew and established aphid colonies |
| Dough | 30% infested plants with localized area of honeydew and established aphid colonies |
| Black layer | Heavy honeydew and established aphid colonies in head (treat to avoid problems at harvest) |
I am also attaching a fact sheet from Texas A&M.
Why is this insect so bad?  Before sorghum heads it can kill or stunt plants, prevent heading, or reduce head size.  After sorghum heads up until harvest, it can prevent equipment from harvesting by plugging it with honeydew (from the aphids).  This insect breeds extremely rapidly.  Once you have the insect, it can blow up in a few days.  Weekly sampling intervals need to be shortened for proper management.
If you decide to spray:
Use an effective insecticide –
Transform WG (Dow AgroSciences) – Transform WG rates of 1.0 and 1.5 oz per acre are effective. Use the 1.5 oz rate if aphid populations are increasing rapidly. The label allows for 2 applications per season and not more than 3 oz per acre per crop and has a 14 day PHI.
Sivanto (Bayer Crop Protection) – Sivanto rates are 4 – 7 fl. oz per acre. Sivanto is very effective at rates of 3, 5, and 7 fl. oz. per acre, so the 4 fl. oz. rate should be effective.  At the 4 oz rate it can be applied up to 7 times during the season but has a 21 day PHI.
Chlopyrifos (Lorsban Advanced, Nufos, other) – Lorsban is labeled at 1 to 2 pints per acre. The 2 pint rate has a 60 day harvest interval.  Data shows that the 2-pint/A rate was 80-90% effective but could not be used after the boot stage due the 60 day PHI. The 1-pint/A rate was not effective.
Do the stage of our sorghum, Transform and Sivanto are the only options and availability is limited.  Both of these products outperform Lorsban at 2 pints.
For Headworm,  Use products without pyrethroids in recommended, Try Blackhawk, Belt, Prevathon, or Lannate which are specific to caterpillars.
Good coverage is Key.
Armyworm in Sweet Potatoes
Being we are getting further along in the growing season we may start to see higher levels of Armyworm in sweet potato. I have attached all registered products for sweet potatoes on Armyworm.
Product                  OZ Per Acre                       PHI                          REI
| | | | |
| --- | --- | --- | --- |
| Coragen |              3.5 to 5 fl oz. |             1 day |              4 hrs. |
| Intrepid |              6 to 10 fl oz. |              7 days |              4 hrs. |
| Rimon |              9 to 12 fl oz. |              4 days |              12 hrs. |
| Radiant |              6 to 8 fl oz. |             7 days |              4 hrs. |
When making a choice of what to spray keep in mind the Pre Harvest Interval
(PHI) getting this close to harvest season of early-planted potatoes.  The threshold for Armyworm is 5 per row Ft.
Coragen, Intrepid and Rimon are all rated as (E) Excellent on Armyworm, while Radiant is rated at (G) Good in the NC Ag. Chemical manual.
Late Season Peanut Insect Control in Peanuts
Corn earworm is the most common foliage feeding insect on peanuts. Corn earworms usually appear in peanut fields in August after the moths emerge from corn fields. Corn ear- worms initially feed in plant terminals, then blooms, older leaves, and pegs as the worms mature. Fall armyworms are not usually an economic problem on peanut, but can occur in very high numbers during outbreak years. This insect usually shows up in peanut fields in mid-August, a couple weeks after corn earworms first appear. The threshold for foliage feeding insects for Rank-growing, unstressed peanuts can tolerate 8 foliage feeding worms per row ft. The treatment threshold is 4 worms per row ft. on stressed plants which have not lapped the middle. Pyrethroids are labeled for control of corn earworms and fall armyworms in peanuts, however, as has been stated many times this season there have been control failures with pyrethroids for corn earworms and higher levels of resistance have been documented. With this in mind it may be wise to apply an alternative insecticide for corn earworms and armyworms. Products that are registered for use in peanuts and will give good levels of control are: Lannate, Steward, Tracer, Orthene, and Belt.
Fall Armyworm in Forage Crops/Coastal 
Fall armyworms can cause major damage to forage crops from mid-summer until frost. Fall armyworms cannot survive even a mild NC winter. They typically overwinter along the Gulf Coast and we see moths arriving by mid-summer in NC. Moths typically lay eggs on structure (trees, buildings, fencelines, etc.) near a field of standing forage. When the caterpillars hatch out, they advance across the field, consuming leaves at an amazing rate. It is this "skirmish line" type of advance that gives them their name. They are capable of decimating an entire hayfield or pasture in a matter of days, so regular scouting from late summer to frost is needed to catch them before major damage is done.
Fall armyworms are quite distinctive. A large caterpillar can be an inch and a half long, green with a black stripe down either side. They have black dots on top of the abdominal sections, and a pale, inverted "Y" over their forehead. To scout for fall armyworms, look for damage, including leaves stripped from standing forage and sometimes even seedheads eaten. Damage may look similar to drought damage, as plants start to dehydrate due to the loss of leaves. In severe infestations, fall armyworms can be seen on the plants. One method of scouting is to "sweep" the forage with your hands, then look on the ground for worms that have been knocked off the plants. They typically curl up when they fall to the ground.
There are various control methods for fall armyworms. One option may be to graze or cut the forage to control the damage, as armyworms rarely feed on forage that has been cut. This is not always an option due to harvest timing or weather, so an insecticide may be needed. Following are some insecticide options for fall armyworms.
-Dimilin 2L-For early instars (very immature armyworms) only, 2 oz per acre, No grazing restriction, 1 day hay restriction
-Sevin XLR or SP-very effective on immature worms, with varying control of adults. 1-1.5 qt. per acre. 7 day grazing and hay restriction.
-Lannate-a restricted use product, .5-1 pound per acre, much better control of adults, but very toxic and more expensive. 7 day grazing, 3 day hay restriction.
-Tracer-1-2 oz per acre,  low risk product, graze after drying, 14 day hay restriction.
-Entrust-.63-1.25 oz per acre, OMRI listed, graze after drying, 3 day hay restriction
-Karate-2.56-a restricted use product, 3.84 oz. per acre, no grazing restriction, 7 day hay restriction
-Mustang Max-a restricted use product, 2.8-4 oz. per acre, no grazing or hay restriction, 7 day straw or seed restriction
Protecting Pollinators
Garden pests create stress not only for the plants but also for the growers.  They eat leaves, transmit viruses, cause flowers not to open, and in some cases can even cause plants to die.  The first thing many gardeners do at the sign of pests is spray.  Often, this reaction to garden pests causes more harm to the delicate environment than the pests cause to the plants.
Pollinators, such as honeybees, depend on flowers for the food they need to live.  As reported by news media for several years now, the honeybee population is rapidly declining.  Therefore, it is safe to assume that if honeybees are dropping off in number, so are other pollinators like bumble bees, butterflies, bats, and beetles (just to name a few).  While few people are monitoring the levels of these other pollinators, scientists and beekeepers all over the world are monitoring the honeybees.
To save our pollinators, we must take some precautions before spraying pesticides.  First, make sure to correctly identify the problem.  Is the pest really affecting the plant, and if so, is it really a problem?  Some beneficial insects look just like pest insects.  Secondly, assess the damage.  Do the pests really need to be controlled?  Are they eating leaves on the plant, but leaving the fruit alone?  What amount of damage is the insect causing, and is it enough to justify spraying in order to control them?  Thirdly, determine if there are some cultural control options.  Cultural controls include using traps, beneficial insects, handpicking insects off of plants, etc.
If you have evaluated the situation and spraying is your only option for control, please think before you spray.  Many pesticides can be extremely toxic to honeybees and other pollinators.  Pollinators are attracted to flowering plants.  Try to avoid spraying plants when they are in bloom.  If pests are negatively affecting plants that are in bloom, then treat the plants with pesticide in the evening hours when the bees are less active.  This will minimize pesticide exposure to many of the beneficial pollinators.
Pesticide application depends on how the chemical was formulated.  Dusts and wettable powders leave a highly toxic residue – a residue that is toxic to pests and pollinators.  These types of chemical formulations don't target specific pests; they are non-selective killers.  Solutions and granular pesticides usually aim to target specific pest insects and are less likely to harm the beneficial insects.
The 2015 North Carolina Agricultural Chemical Manual lists the relative pesticide toxicity in regards to honeybees.  (http://ipm.ncsu.edu/agchem/5-toc.pdf)  When protecting plants from pests, consideration must be given to those insects, birds, and mammals that are providing pollination services.
Kudzu Bug-Thresholds
Kudzu bugs have now invaded early-planted full-season soybeans across the state.  Remember that they are easy to kill, but once you put the insecticide out, you have the potential to have more insect problems throughout the season.  Insecticides that kill kudzu bugs also kill beneficial insects.
The preliminary NC threshold is 5 bugs per seedling, until plants are one foot tall.  Fields infested at these levels will likely be a rare situation.  Then, the threshold will change to 10 bugs per plant for plants from 1-2 feet tall.  The established threshold of one nymph per sweep (one swoosh of the net) should be used for plants above 2 feet tall.  Plants should be sampled at least 50 feet from the edge of the field.  The reason for this is that the adults have an extended migration period (6-8 weeks) and colonize field edges first.  If you sample the edges, chances are you will make a spray decision too soon before the migration is over.
Insecticide evaluations indicate that bifenthrin (e.g. Brigade), bifenthrin + chloronicotinoid combinations (e.g. Brigadier) and lambda-cyhalothrin + thiamethoxam (e.g. Endigo) are very active against kudzu bug on soybean.  Because these chemistries are broad-spectrum, beneficial insects will likely be eliminated, putting fields at greater risk for mid- to late-season lepidopteran infestations, such as corn earworm, armyworm species, and soybean looper.  Fields should be intensively scouted through R7 for this and all other pests.  Kudzu bugs were found in most of North Carolina's soybean-producing counties in 2013.  For now, the most effective approach to managing this threat to profitable soybean production is to scout regularly, use recommended thresholds, and spray when needed with effective insecticides.
Carpenter Bees and their Control
With warming temperatures our hovering neighbor the "Carpenter Bee" is beginning to make an appearance. These busy bees can offer quite a nuisance for homeowners with their excessive buzzing and wood excavation.  Typically, carpenter bees do not cause serious structural damage to wood unless large numbers of bees are allowed to drill many tunnels over successive years. The bees often eliminate their wastes before entering the tunnel. Yellowish-brown staining from voided fecal matter may be visible on the wood beneath the hole as seen in the picture above. Woodpeckers may damage infested wood in search of bee larvae in the tunnels. In the case of thin wood, such as siding, this damage can be severe. Holes on exposed surfaces may lead to damage by wood-decaying fungi or attack by other insects, such as carpenter ants.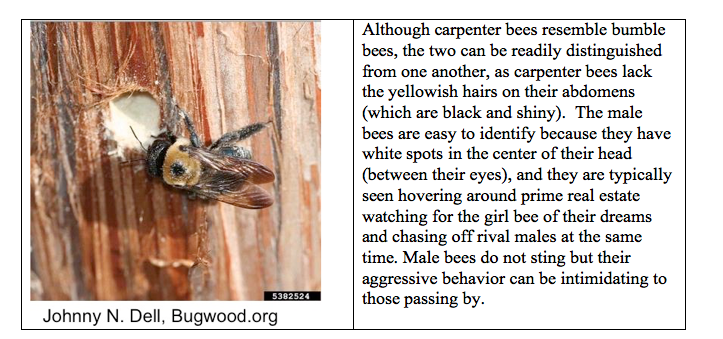 After mating, the female bee goes hunting for a new place to build a nesting gallery.  Choice locations will be wooden porch rails and balusters, wooden planks and solid wood siding. This includes treated and resistant wood species. Females will excavate a nearly perfectly round hole and gallery that typically follows the grain of the wood.  Females then make a ball of pollen, stick it into the gallery and deposit an egg. She will then construct a partition of chewed wood debris and repeat this process until the gallery is furnished with multiple offspring.  At that point, the female dies and for most of the summer, no activity is seen. The offspring will then emerge in late summer and/or fall and hang around before finding a sheltered location to pass the winter (like an abandoned gallery).

By treating individual galleries, you are far more likely to produce a lethal effect on these bees. Wide spread surface applications of insecticide provide little control and are often dangerous for both humans and other insects. A targeted approach will provide a slightly safer and satisfactory result. After applying an insecticidal dust to the individual gallery, following up by placing a small ball of tin foil into the hole and apply caulk. This will help seal the hole from moisture, and reduce overwintering sites for these insects.
Always remember when applying an insecticide to READ AND FOLLOW THE LABEL DIRECTIONS.  If you would like more information about Carpenter Bees you can visit the NC State Extension Insect Note at this address https://www.ces.ncsu.edu/depts/ent/notes/Urban/carpenterbees.htm.
Diagnosing Nutrient Deficiencies In Soybeans
Many nutrient related issues occur early in season and can sometimes mimic herbicide injury in appearance.  In many instances it is difficult to tell the two apart. Most often nutrition related issues can be confirmed with a properly taken tissue test and corrected with an in season fertilizer application.  Fertilizer is expensive, therefore properly identifying nutrient issues is paramount in minimizing production costs.  Below are some keys to identifying nutrient related symptoms in soybean fields.
Potassium Deficient Soybean – A 60 bushel/acre soybean crop will remove approximately 72 lb K2O lbs/A, making soybeans one of the crops that transports the most K2O away from the field. To properly diagnose K deficient soybeans we can key on a few items.  1) Potassium Deficiencies will generally occur in lighter textured soils (lower CEC). 2) Potassium is a mobile nutrient in the plant. This means that most potassium deficiencies will show up on the lower leaves first, especially when observed early in the season. 3) Classic symptomology for K deficiency is a chlorosis along the outer edge of the leaf tissue.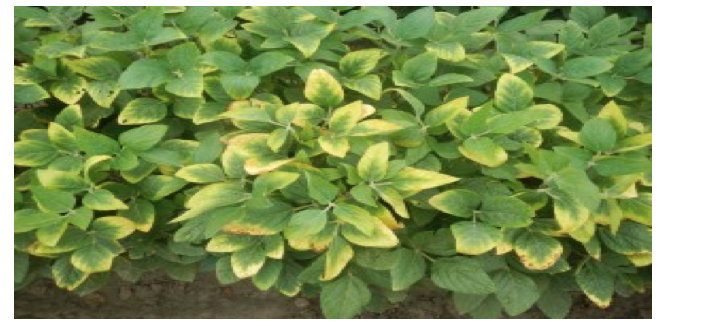 Phosphorus Deficient Soybean – Phosphorus (P) deficiency is not as clear cut and easily identifiable as K in soybean tissue. Soybeans remove less P2O5 when compared to K, but still remove an equivalent of 100 lbs of Triple Super Phosphate or Diammonium Phosphate when producing a 60 bu per acre crop.  Phosphorus is also mobile in plant tissue, which means like K as new leaves develop they will borrow P from older leaves to keep the young growth healthy.  The older plant tissue then produces the symptomology.  A soybean deficient in phosphorus will generally appear spindly, with smaller leaflets (leaves will appear more rounded and look like peanut leaves) and have a stunted growth habit.  In some cases P deficient soybean will give the appearance of having a dark green to almost blue appearance.  Leaf tissue testing is the best method to accurately diagnose P deficiency.
Sulfur Deficient Soybean – Sulfur (S) is a secondary nutrient, but is generally removed in a greater quantity than what is supplied to the soybean crop.  A 60 bu per acre soybean crop will remove 11 lbs of S/acre.  Sulfur deficiency most often occurs in soybeans that are seeded to lighter textured, low organic matter soils (lower CEC) and sandy ridges within a field.  For many years we did not need to worry about S fertilization, but with the clean air act, much of the free S we used to get from atmospheric deposition has ceased.  Sulfur is immobile in the plant therefore soybeans will show S deficiency in the upper canopy, and will generally manifest in an overall yellowing or off green color in young leaves and buds.  Soybeans respond well to S application with S application improving yield and quality in deficient stands.  For immediate response, use a S product containing S in the form of SO4.  Soybeans require 20 to 25 pounds of S per year, and in cases of high organic matter soils or manured fields, a high percentage is derived from the soil.  Ammonium sulfate, ammonium thiosulfate, gypsum, potassium sulfate, magnesium sulfate and elemental sulfur are potential sources of supplemental S.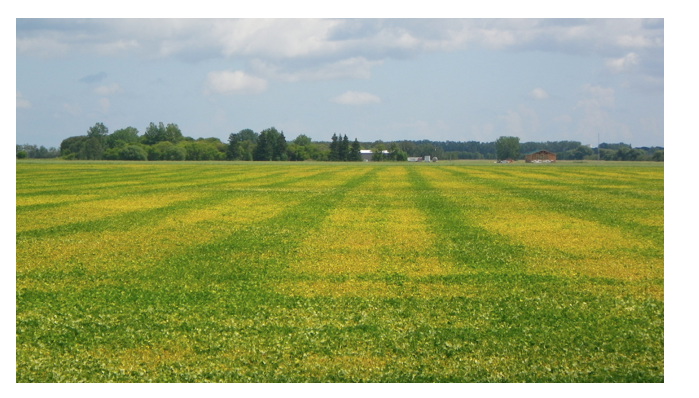 Manganese Deficient Soybean – Manganese (Mn) is a micronutrient required in small quantities by the soybean plant.  Manganese is an enzyme activator and is essential for proper root growth.  Deficiencies most often occur on high pH soils.  In North Carolina, we have observed Mn deficiency on many of our heavy soils with pH greater than 7.0.  Unlike P and K, Mn is immobile in the plant.  This means that symptomology will most likely appear on the younger leaf tissue first, as Mn cannot easily be recycled from the older plant tissue.  The characteristic symptoms for soybean include interveinal chlorosis while the veins will remain dark green in color.  There may be varying shades of chlorosis across a field landscape.
Magnesium Deficient Soybean – Magnesium (Mg) deficiencies are relatively uncommon, but may occur in areas of acidic, sandy soils. Interveinal chlorosis and mottling will occur on deficient plants, starting with the lower (older) leaves. These areas may appear bronzed or speckled as the deficiency progresses.  Magnesium is usually reported in standard soil test and tissue test reports. The critical level for exchangeable Mg in the soil s 50 ppm or 100 lb/acre. The simplest method for supplementing soil Mg is by the use of dolomitic limestone, magnesium sulfate or potassium magnesium sulfate. In some cases, excessive K in the soil can hinder the plant's ability to take up Mg
Nodulation Issues/ N Deficient Soybeans – Poor soybean nodulation can result in an N deficient soybean field.  Many characteristics are alternating areas of dark green and lighter green beans, which have very few if any nodules on lateral roots.  There are a host of potential items that can reduce the function and/or amount of active nodules in a soybean crop.  New soybean fields with little history of production, freshly land leveled fields, highly compacted soils, soils containing an abundance of residual N, and prolonged saturated conditions can all lead to reduced nodule formation and/or activity.  Fields with reduced nodule activity will respond to N application; however, it is generally not economically feasible to try and produce a soybean crop with N fertilization alone due to the vast amount of N required.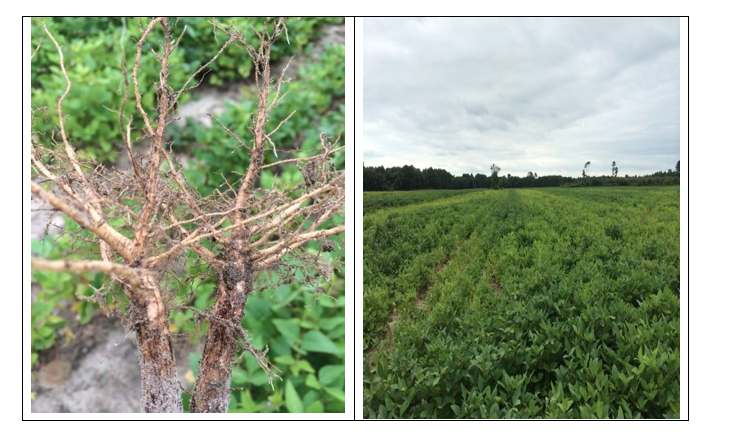 Pesticide Container Rinse and Recycle Program
The pesticide container rinse and recycle program has expanded to two new locations, giving Johnston County more room to properly dispose of pesticide containers.
These sites are located at 820 Stewart Road in Four Oaks, 1096 Scout Road in the Bentonville area, 9349 NC Hwy 96 S in the Meadow area, 5677 US Hwy 301 in Kenly, 15031 Buffalo Road in Clayton, and at the Johnston County Landfill site on County Home Road in Smithfield.
Properly rinsed containers can be taken to these sites during normal operating hours.  You do not need a county solid waste sticker to dispose of containers.  Remember, to remove the label and lid, on buckets, remove the label and large lid, and on 35 and 55 gallon drums, drill holes in bottom and do not crush.
Disclaimer: Recommendations are included as a convenience to the reader. The use of brand names and any mention or listing of commercial products or services does not imply endorsement by North Carolina State University nor discrimination against similar products or services not mentioned.
Was the information on this page helpful?
Care to tell us why? Send Explanation