National Youth Science Day – Code Your World – 2018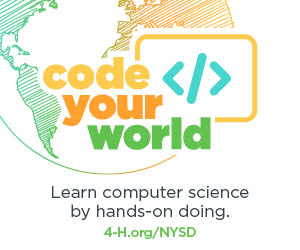 4-H National Youth Science Day (NYSD) is the world's largest youth-led science experiment. Every year thousands of youth take part in the National Science Challenge focusing on important STEM topics and issues.
This October, 4‑H and Google will launch an exciting National Youth Science Day challenge, Code Your World, inviting kids to get involved in computer science (CS) through hands-on doing.
It includes a computer-based activity on Google's CS First platform and three unplugged activities that bring coding to life through games and interaction.
This year's activity will not only teach computer science to kids, but also build confidence and teach skills relevant across fields from agriculture to technology to the arts.
This year's challenge is entitled: Code Your World and it will take place on Tuesday, October 2, 2018 from 6:30 – 8:00 p.m. Code Your World is a multi-part challenge that teaches kids ages 8-14 to apply CS to the world around them through hands-on activities.
There will not be any snacks or drinks provided, so feel free to bring your own, or eat before you come. Youth DO NOT have to be current 4-H Members, but if they are not, we ask that parents please stay for the event.