Fall Showcase 2018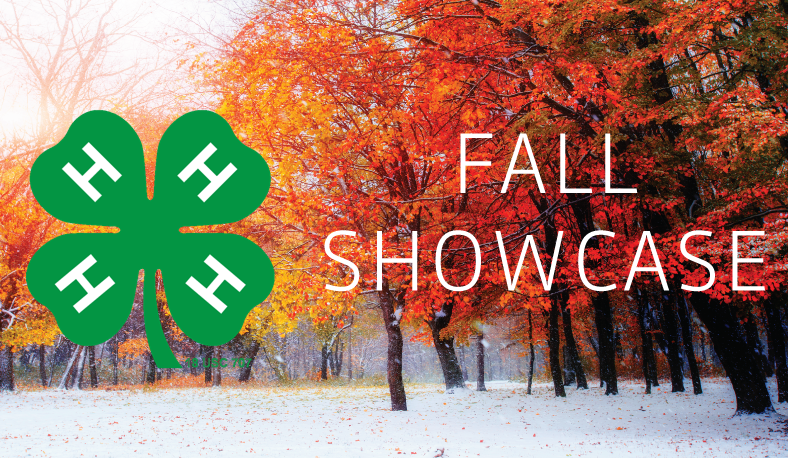 BECAUSE OF A FLAW IN HOW GOOGLE CREATES FORMS, YOU CANNOT ENTER MULTIPLE ITEMS IN THE SAME CLASS ON THE SAME ENTRY.
SO IF YOU HAVE MORE THAN 1 ITEM TO ENTER IN CRAFTS YOU WILL NEED TO ENTER EACH CRAFT ITEM ON A SEPARATE ENTRY.
YOU CAN HOWEVER ENTER ITEMS IN A SEPARATE CATEGORY ON EACH ENTRY. SO IF YOU HAVE AN ITEM IN CRAFTS, PHOTOGRAPHY, ENTOMOLOGY, SEWING, HANDWORK, FOOD PREPARATION, FOOD PRESERVATION, ART AND CLUB, YOU CAN ENTER ALL OF THESE OR ANY COMBINATION ON THE SAME FORM. IF YOU HAVE MORE THAN 1 ITEM IN ANY CLASS, YOU WILL NEED TO DO A NEW FORM FOR EACH ONE.
I AM SORRY, I HAVE TRIED TO CORRECT THIS, BUT WITHOUT REDOING THE ENTIRE FORM THIS IS THE FASTEST WAY TO GET IT BACK ONLINE.
For all youth 5 -18 as of January 1, 2018. Please make sure you bring a copy of your State Fair entry form and your tags if your items are going to the State Fair.
☞✺✺The deadline for All Fall Showcase entries has been extended due to a technical error with the form and the weather.
☞✺✺They are due into the County System by September 19 at Midnight.
All State Fair entries are being extended as well and due in the Online State Fair System by 11:59 p.m. on Friday, September 21. Hand delivered entries for the Fair should be there by 4 p.m. on that date.
Have you made something Awesome since September of last year? A craft, photograph, art project, or canned something from your garden this summer?
Then the Johnston County 4-H Fall Showcase is the place for you to exhibit your hard work and beautiful items.
Fall Showcase entries are due in the online registration below by Saturday, September 15 at 11:59 p.m.
Entries will be taken at the 4-H Office, 2736 NC 210 Hwy, Smithfield from 3–7 p.m. on Monday, October 1.
All entries must be in place by this time.
Exhibits will be judged on Tuesday, October 2 and everyone is invited to see their awards from 2–6 p.m. You may take your ribbons with you.
All entries that are not going to the NC State Fair must be picked up at this time.
If you would like to have your items entered into the 4-H Division of the NC State Fair, please visit their online registration site and sign up by Friday, September 21 at 12:59 p.m.