4-H Merry Market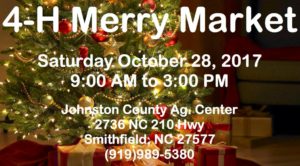 We are in the final week before our largest 4-H Fundraiser, Saturday October 28th. Our Craft and Vendor Show runs 9 a.m. – 3 p.m. next weekend
. We have
41 vendors
signed up to offer an AMAZING lineup of crafts and gift items for upcoming Birthdays, Christmas Gifts, Wedding Gifts or Anniversaries.
So come SHOP, BUY Door Prize Tickets, Gifts and Volunteer! Tell Everyone you know, and even those you don't. We need a HUGE Crowd this year!
Follow the link below to sign up to help, make baked goods for the snack booth or see what vendors you want to visit first when you come on the 28th. You can find a complete listing at the
4-H Merry Market
page on Facebook. Feel free to share the event on your own page.